Tea fields. That's what won me over as Jon talked to me about taking a long weekend trip to Sri Lanka. You see, I'm obsessed with tea. I drink it hot. I drink it cold. I drink it black, green red, white...multiple times a day and when we discussed this trip, my little heart pitter pattered at the thought of touring a real life tea factory. And so the planning began.
Sri Lanka is an island nation off the south eastern tip of India. Formerly known as Ceylon, which tea lovers will recognize, it was about a 4.5 hour plane ride from Abu Dhabi. We got a reasonable deal on Etihad, although I recommend booking in advance because the cheapskate in me knew we were paying a bit much at the time, but we were about ten days out from departure and chalked it up to procrastination.
We flew into Colombo, the capital city, and landed around 8pm. Already dark out and a bit rainy, we hired a taxi to take us to our hotel, Jetwing Blue, in the nearby fishing village of Negombo. A decent hotel, they actually upgraded us from an annex room (which after booking I later regretted because I learned these units were across the street, windowless and "super creepy" through reviews) and we got a nice king size room overlooking the pool/ocean for our first night.
Food! We were hangry by 9:30. I made reservations at this place called Lord's (editor's note: Lord's is England's most famous cricket ground, known as the "home of cricket" and the place for which this restaurant was named. Now you know!) which was conveniently across the street from the hotel and was rated Negombo's #1 restaurant on Trip Advisor. With open air seating and little ponds of fish at our feet, we knew we found a good place. We arrived on the Buddhist Bak Full Moon Poya holy day, so it was a dry night (vacation fail), but we noshed on curry and hit the hay early knowing we had a three hour drive the next day to Kandy in the center of the country.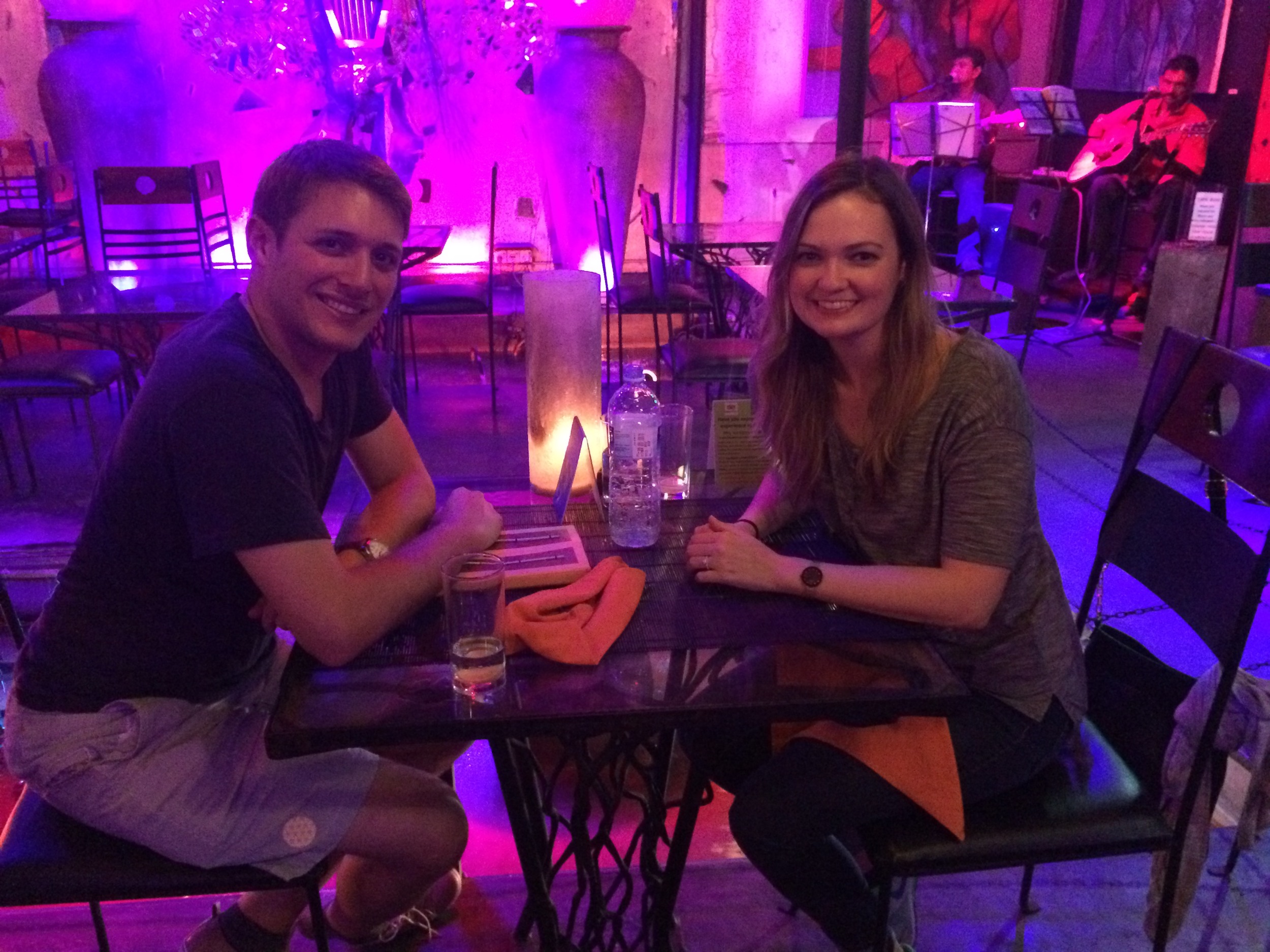 Kandy is the place to stay according to a Sri Lankan friend of Jon's, and so after a little research I found the Ozo Kandy hotel, a newer accommodation right near the heart of the city. The hotel was fantastic, clean, with a gorgeous lake view balcony and a rooftop pool bar where we ended every single sightseeing day. We hired a driver at the airport when we first arrived and were assigned Vindana, the sweetest guy who had a bit of a language barrier with us but got us where we needed to go safely, on time and with a gigantic smile on his face. So you're aware, hiring a driver is probably the best way to go here - we paid $100 for all three days in his A/C, clean sedan. Other ways of transport include trains and tuk tuks, which are fun for certain adventures, but city hopping with Vindana was the way to go for us in a short time.
The drive to Kandy was beautiful - lush green hills, windy roads through busy villages with plentiful fruit and vegetable stands everywhere you look. The drive was also terrifying - don't ever drive here as a tourist, you will hate it. Little tuk tuks weave in and around and lanes aren't even really a thing. Don't even get me started on the buses. To give us a stretch and ease my nerves probably, Vindana stopped by the Embilmeegama Tea Factory on the way and ushered us into a quick ten minute tour and tasting. Did you know that black and green tea are made from the same leaves? I sure didn't, and I act like I know everything about the beverage. Souvenir spotlight: Jon bought me a cup and saucer.
Our first evening in Kandy consisted of rooftop bar bites and Lion lagers over looking the man-made Kandy Lake - the focal point of this little city. Next to the lake lies The Temple of Tooth, a Buddhist temple we visited the next day which is said to house the relic of the tooth of Buddha. I had to cover up entirely, so I brought a wrap for my shoulders and was already wearing a maxi skirt (it did have a slit in it though, so bobbi pin for the win!). Let me tell you it was hot...but the pavement was even hotter. You cannot wear shoes into the temple, so warning you if you go - you'll have to dance around until you're inside because that heat was some kinda pain I've never felt before.
Touring the temple was nothing short of unforgettable. You are offered to purchase lotus flowers to leave inside the temple, but we opted out of that not fully being educated on the meaning, didn't want to seem disrespectful. Once inside, everyone seems to migrate upstairs. We followed the crowd, and I think both of us were completely unprepared for the powerful feelings that would overcome us. People were on the floor praying, chanting, meditating. Crowds of families and individuals came together offering their flowers and giving their entire being to this religion I knew nothing about. I think we both felt like awkward spectators, intruders even, but we walked through, cameras put away and soaked in the moment. We both believe it was one of the most beautiful things we have ever witnessed and without one single photo taken up there, I will never forget some of those faces.
The rest of the evening was laid back, we had a little dinner at a place on a hill called Slightly Chilled. A panoramic view of Kandy and a place that was mostly full of tourists, it was a good time to wind down and take in the day.
We ended our stay in Kandy with a visit to an elephant orphanage, another tea factory tour and a damn good sunset. Yes, I said elephants! Now, elephant captivity doesn't have the greatest reputation in South Asia, so it was really important for us to research the ethics of these places offered to tourists presenting themselves as conservation and rehabilitation centers for these animals. We ended up asking Vindana to take us to one he recommended...and we lasted about 15 minutes. Sure, they told us these seven elephants were originally owned by people and taken care of here, but we didn't love our experience. It was hard to see people pay to ride them, even bathe them for a quick buck. We understand it is tourism revenue and no fault of Vindana's for making us feel uncomfortable, but for future reference, if you have time to visit one of Sri Lanka's national parks, that is the way to see these beautiful creatures...in the wild.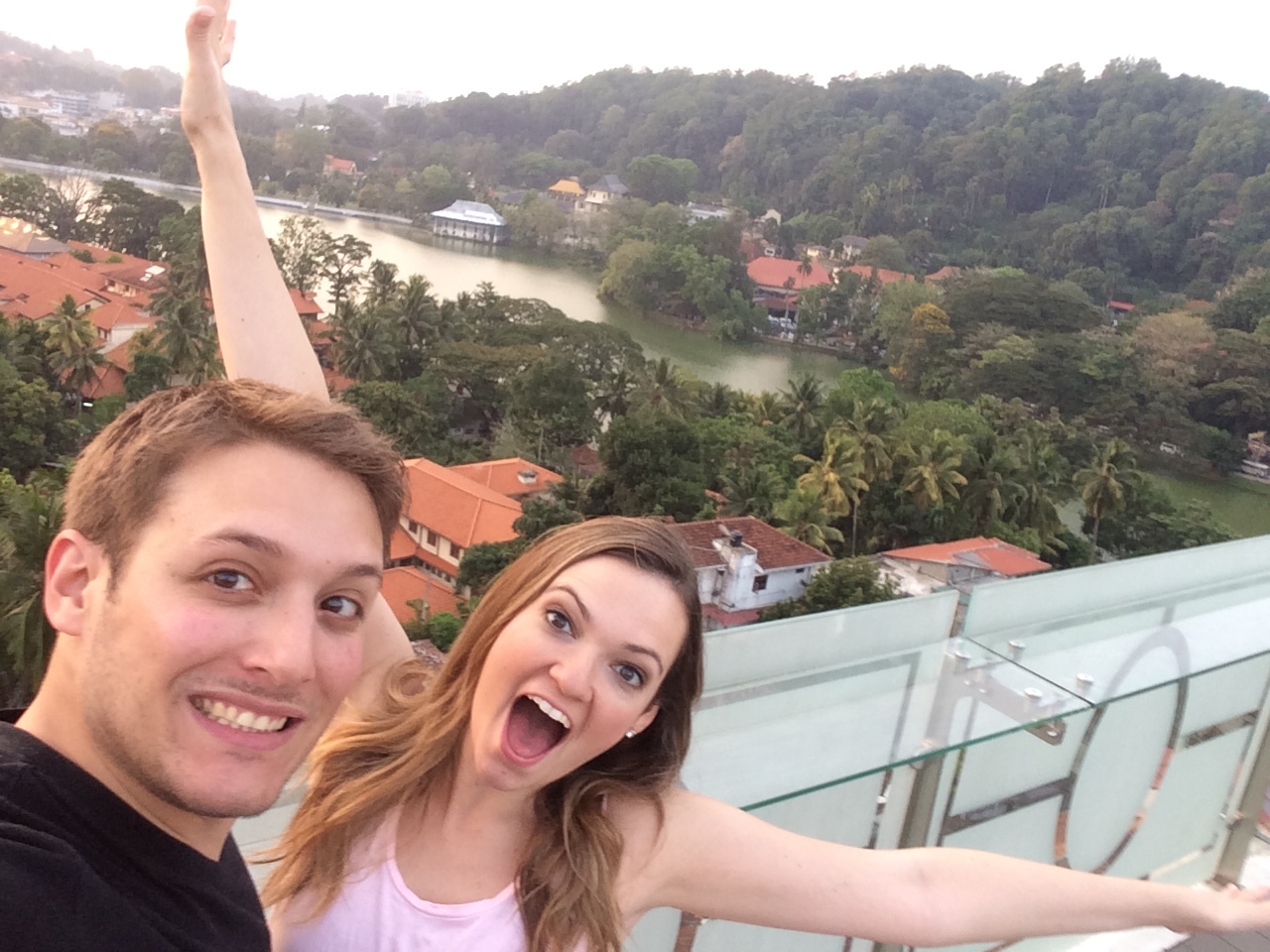 We headed back to Colombo for our final night's stay in Sri Lanka and stayed at The Steuart by Citrus which was a perfect location. It was situated in the business hub part of town next door to the Dutch Hospital complex, a new shopping precinct with boutique shops and restaurants - some of the best lobster mac 'n cheese was served to me at the Colombo Fort Cafe. Jon will also tell you the black pork curry was "AWESOME".
Now, Colombo sticks with me to this day. We took an impromptu tuk tuk tour around the city with a nice driver offering up the sights and little factoids along the way for very little money. We saw the Red Mosque, the Town Hall, a few gorgeous parks and markets, the National Museum and so much more. What I didn't expect in the middle of all this was our drive through some narrow poverty-stricken streets, another instance where I put my camera down and instantly felt helpless and even guilty looking at a glimpse of some of these locals' day-to-day life. It's one of those experiences where you want to look away but you can't. You don't want to make eye contact but you do. In one moment, I spotted a little boy sitting on a dirty concrete floor through a narrow dark doorway and the only thing lighting up his precious face was a very old box television with a black and white cartoon playing. This doorway was part of a room that was no larger than the cubicles I've worked in. And that was his home with the tattered tin roof.
After the highs and lows traveling through this country, I will say this. Sri Lanka surprised the hell out of me and not always in the best ways. It was hot. I avoided drinking the water, and I still managed to get sick for a day. I was ready to go home by the end of it. BUT. It had the biggest impact on me of any trip so far. We met the nicest people - one tuk tuk driver in Kandy, Gayan was his name, was a cricket fan and wanted to be Facebook friends with Jon by the end of our journey. One shop owner I chatted with wanted nothing more than to open his own tea cafe in America one day. I hope he gets to do that. We experienced another religion being practiced in front of our very own eyes, and they didn't care we were there. They were focused and devoted to something far larger than any of us in the room, and that was beyond awesome. We saw living conditions lower than anything I could have imagined and to know there are worse conditions in neighboring India, I still can't wrap my head around it. I can't get too Eat.Pray.Love.-ish on this. That would be annoying, because I still have so much to learn, but this experience made me grab Jon's hand a little tighter and reflect on all the impressions, good and bad, this visit made on us.
To conclude, about three weeks after our visit in May, flash flooding and landslides affected more than 300,000 people. You may not have heard due to the Trump/Hillary news domination, but it was devastating and they still need help. Donate to the Sri Lanka Red Cross if you can.